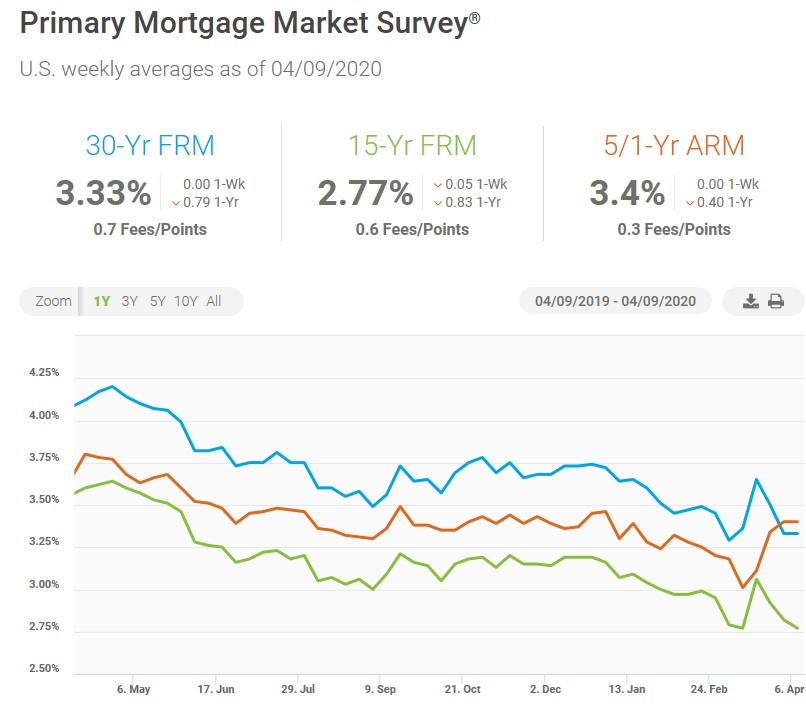 Single family home (SFH) rental landlords seeking to refinance as well as those planning to expand their existing portfolio now have an opportunity to lock in the lowest mortgage interest rate in nearly fifty years. Similarly, investors who are contemplating a first move to become an SFH rental investor share the same attractive long-term interest savings.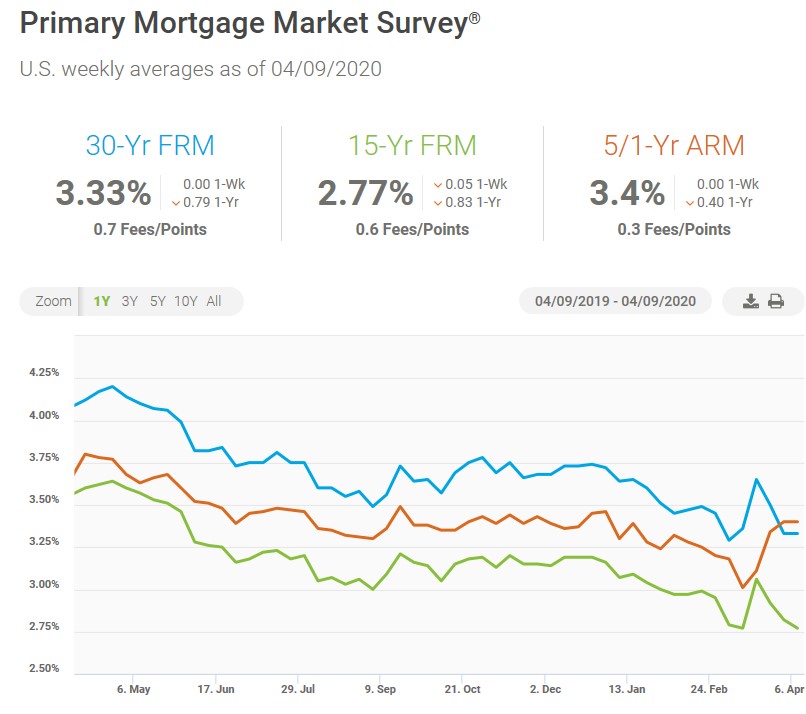 Fueled by worldwide investor panic sparked by the spread of the coronavirus, average 30-year fixed-rate mortgages plummeted from 3.45 percent to 3.29 percent – the lowest rate ever reported in Freddie Mac's Primary Mortgage Market Survey (above), which dates to 1971. As of April 9, 2020, the rate remained essentially flat.
At this time a year ago, 30-year fixed loans averaged 4.41 percent.
So, what's the upshot of this turn of events? We think it's a diminished market for homebuyers given the current financial upset due to the COVID-19 pandemic … thereby maintaining pools of SFH tenants by choice or by circumstance.
On the flip side of that coin, there may be an enhanced opportunity for residential real estate investors … especially those who have or seek to acquire single-family rentals (SFH).
What follows are our reasons for maintaining this point of view. We base the bulk of our assessment in examining the desires and financial status of the two major pools of SFH tenants … Baby Boomers and Millennials.
Note: Currently, reports are that roughly one-third of American households rent … and about one-third of those rentals are single-family home … and as we'll see, it's very likely that more and more renters will seek an SFH as the housing option of choice.
Baby Boomers
As we described in last month's issue, Baby Boomers, the once largest segment of the U.S. workforce, are increasingly in a retirement mode. Often that means downsizing … meaning selling their larger homes, but not abandoning their desire for single-family living. Be sure to click on the link above to review or refresh your knowledge of the five key livability factors seniors seek … all of which are attributes of the Greater Richmond RVA and Tidewater regions.
Appeal of college towns
Walkable attractions
Availability of superior medical facilities
Affordable lifestyle
Climate
The presence of all of these pluses will continue to attract Boomers to our region.
Millennials
Millennials, the most numerous generation in the country cannot be ignored as a major factor in the mix of potential SFH renters. A survey by the National Association of Home Builders found that most millennials want to live in single-family homes outside of the urban center. And they want three or more bedrooms.
As they begin to set up households and raise a family, SFRs will be increasingly in demand.
The major reason for the trend toward SFHs rather than buying is the difficulty many … if not most … millennials have in getting a mortgage. That is further complicated by what is described above …a diminished market for homebuyers given the current financial upset due to the COVID-19 pandemic.
Even in light of historically low mortgage interest rates, millennials face two major hurdles that inhibit qualifying for a home loan.
First, a recent study conducted by TransUnion found that millennials had lower credit scores than their parents did at the same age. Instead of applying for and using credit cards and loans for purchases, millennials tend to pay for things directly by writing a check or with their debit cards. That means no established credit history or evidence that they can manage debt. Clearly, the purchase of a home, except for very rare instances, requires a loan … and lenders are unlikely to advance credit without some record of satisfactory debt service in the past.
Second, is the debt millennials have incurred to finance their college educations. According to the most recent available statistics, the average college graduate in the class of 2016 had $37,172 worth of student loan debt. Monthly student loan payments are included in determining a loan applicant's debt-to-income ratio which will affect qualification for a mortgage.
Often burdened by low credit scores and student debt, many Millennials are not in a position to buy a home, however will welcome the privacy of an SFH … especially those rentals that support the four all-important lifestyle issues that Millennials crave:
Healthier Living
Affordable Lifestyle
Green Living, and
Amazingly … Experiences!
Click here for a more detailed look at these 4 key issues that drive Millennials in their choices of SFH rentals.
Summary
In general, the best investment property for beginners is a residential, single-family dwelling. Single-family homes tend to attract longer-term renters and typically superior tenants that make rental payments on time and take better care of the property.
Likewise, these same plusses are drivers for seasoned residential rental investors as well. Additionally, turnover is typically lower than with apartments, landlords don't have common-area maintenance costs and the asset's value has meaningful upside compared to apartments.
Couple the above with an active and growing pool of Boomer and Millennial renters who find an SFH to be the preferred rental choice and Central Virginia to be a sought-after residential area.
Note: Yes, last month we asked that you join us in April for a half-dozen tips to successful SFH investing. We haven't forgotten … just with the current interest rate and pandemic climate, we hope you agree that the above are top of mind topics of value to SFH investors.
Next month … our promise … 6 Tips to Successful SFH Investing!