Chesapeake Property Management
Let us manage your Chesapeake rental property
KRS Holdings, Inc. has specialized in Chesapeake property management since 1990. Our guiding principle has always been to maximize the value of our clients' residential assets, while we minimize their time commitment. Apartments, single family homes, duplexes and commercial properties...all managed with excellence to attract and retain tenants.
Full Service Property Management
Leasing and Marketing
---
A dedicated Chesapeake leasing and marketing agent will work to ensure that your property is always at full occupancy. By proactively monitoring market trends and promoting your property with strategic advertising placements occupancy rates have the potential to exceed the market average.
Operations
---
The operations team at KRS Holdings is equipped with the necessary skills to effectively execute every day tasks and resolve any conflicts that might arise with tenants.
Maintenance
---
Our maintenance team has the necessary skills to address problems in a timely manner while minimizing your out-of-pocket costs. You can rest-assured knowing we have property maintenance technicians available year round.
Accounting
---
The primary objective of our accounting department is to provide turnkey bookkeeping services to keep your business running smoothly. You'll have peace of mind knowing your records are professionally managed and safeguarded.
Start getting the returns you deserve today! Contact us for a property consultation by completing the form to the right.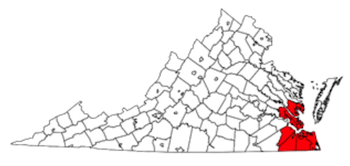 CHESAPEAKE VA MARKET
Residential real estate investors, whether contemplating your first purchase or as a seasoned landlord seeking to expand your portfolio, be sure to consider Chesapeake, Virginia. As a property management company, we did the research and committed to serving landlords and renters in this market. Here's why you should consider doing so as well.
Chesapeake is a Virginia city located on the border of North Carolina … at the midpoint of the U.S. Atlantic Coast and 3.5 hours south of Washington, DC. Two-thirds of the U.S. population and industrial production are within 750 miles of Chesapeake. The City enjoys the reputation as one of the best locations for business investment and quality of life.
Chesapeake's economy is characterized by one of the strongest and most highly skilled workforces in the U.S. The area has achieved great success in recruiting and retaining new and existing companies. Known for its excellent telecommunications and transportation infrastructure, Chesapeake has become a desired location for businesses. In fact, nearly 20 percent of the region's largest employers are located here …including nearly 50 foreign-based companies from 18 different countries.
A 2020 population tally of 249,787, marks it the third most populous city in the Commonwealth. Notably, Chesapeake boasts an average household income of $97,038 … evidence of a strong job sector … further underscored by a low unemployment rate of 4.7%.
Renters make up about one-third of the residential population. The average monthly rent comes in at $1,381 … sporting a recent year-over-year gain of 9%! Rents in Chesapeake have displayed consistent annual increases as this table illustrates.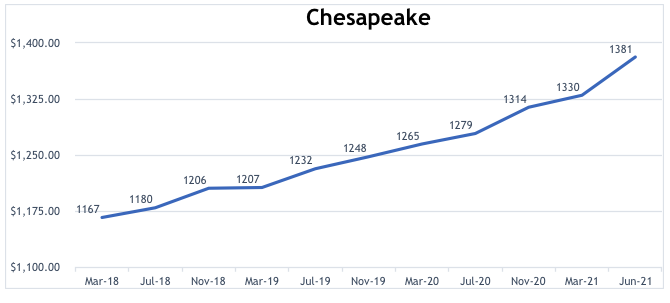 The average size for a Chesapeake, VA apartment is 979 square feet. Of course, this number varies greatly depending on unit type, with cheap and luxury alternatives for houses and apartments alike. Studio apartments are the smallest and most affordable … 1-bedroom apartments are closer to the average, while 2-bedroom and 3-bedroom apartments offer a more generous square footage.
There is a significant military presence which creates a rotation of Navy, Coast Guard and Air Force personnel in and out of the area. This represents a continuing substantial pool of tenants.
Just as significant is the several thousands of military members discharged or retired annually from local bases. Many choose to remain in the area as renters given opportunities for employment and quality of life.
Additionally, a welcoming temperate climate plus access to a variety of outdoor activities along with social, cultural and educational offerings prove to be major attractions to retirees and millennials … two major sources of renters.
READ MORE +
Areas We Service
If you have a real estate investment property in any of these areas, contact us today! Our property management team would love to offer you our services and help you increase your ROI, while decreasing your stress.