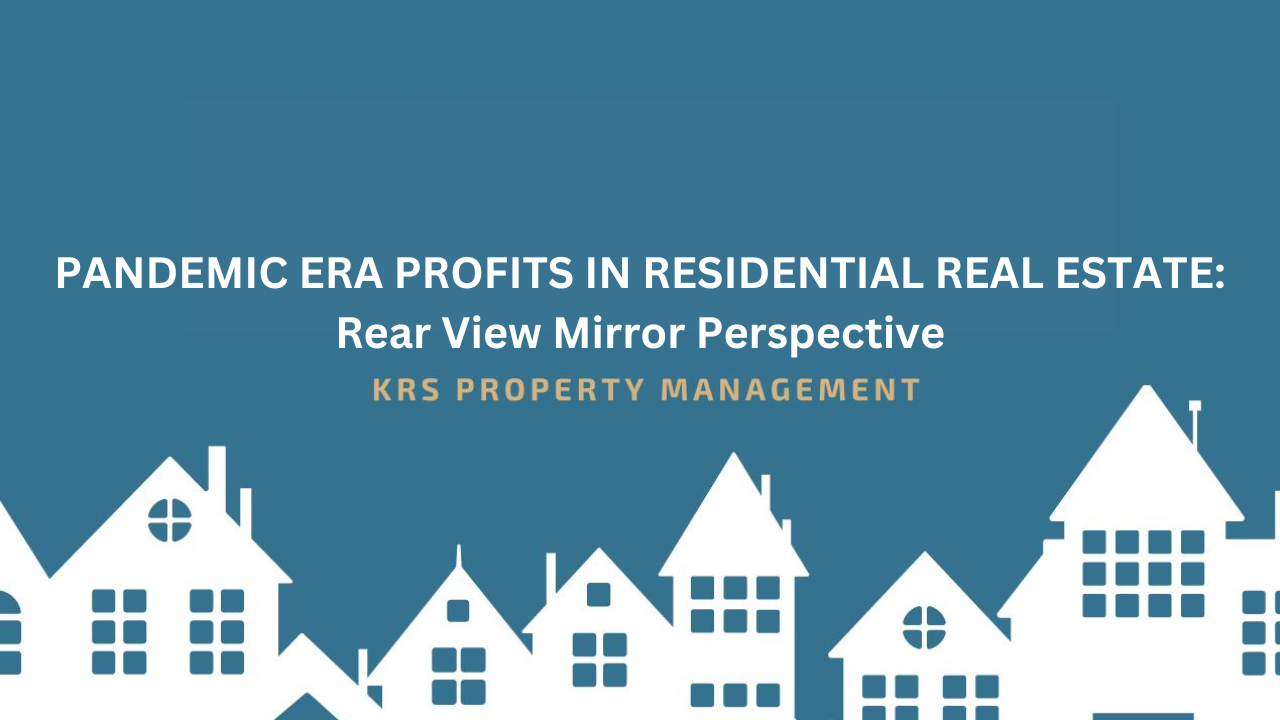 Rear View Mirror Perspective
Covid 19, inflation, unemployment, businesses shuttered! Amidst all this admittedly precise doom and gloom assessment of the last couple of years, here's a look at what some residential rental investors enjoyed.
Pandemic Era Profits
Our frame of reference is a Greater RVA Zip Code to look back on the history of what was considered affordable single-family homes (SFH) in 2021 and 2022. Then we'll see how residential landlords who bought SFH rental properties at the height of the pandemic made out.
For the sake of simplicity, we'll assume that the mortgage amount equaled the average sale price of the homes at 3% interest … the typical rate in early 2021. Additionally, we'll build in an assumed cost, 18% of rent for taxes, insurance and maintenance.
Yes, a down payment that reduced the amount of the loan would inflate the gain in net income. Likewise, factoring in the inflation rate would reduce the effective interest rate … but let's avoid math complexity and keep the 2-year calculations uncomplicated.
As a place to start, in January 2021 the average price of an "affordable" single-family, 3 bedrooms, 1 bath home in the Zip Code chosen for this article was $202,700 … monthly rent: $1,257.
So, we'll look at the four building blocks of Wealth Creation for residential landlords:
Net Cash Flow
Principal Paydown
Asset Appreciation
Interest Deductions
Net Cash Flow
At the beginning of 2021, the monthly rent was $1,257. Twelve months later the figure had increased to $1,437. Here's the annual net cash flow to the SFH investor.
| | | | | | |
| --- | --- | --- | --- | --- | --- |
| Year | Annual Rent | Debt Svc. | Taxes, Ins., Maintenance | Total Expenses | Net Cash Flow |
| 2021 | 15,084 | 10,255 | 2,715 | 12,970 | 2,114 |
| 2022 | 17,244 | 10,255 | 3,104 | 13,359 | 3,885 |
| Totals | 32,328 | 20,510 | 5,819 | 26,329 | 5,999 |
The investor enjoyed a 2-year total net cash flow of $5,999!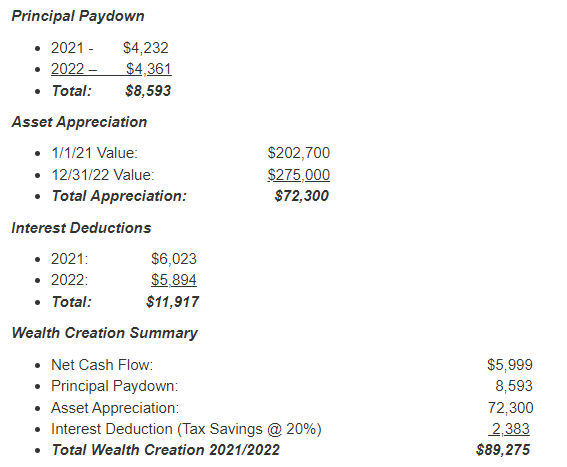 In the wake of high unemployment, inflation and business financial distress, our residential investor enjoyed a high 5-figure ROI!
Takeaways
As the investment disclaimers often caution, "Past performance is no guarantee of future results". That said, my expectation is there will be continuing opportunities for significant wealth creation in residential rental real estate … especially investments in single family homes.
Be sure to check out our next issue for a crystal ball peek at what near and mid-term potential residential landlords may anticipate.