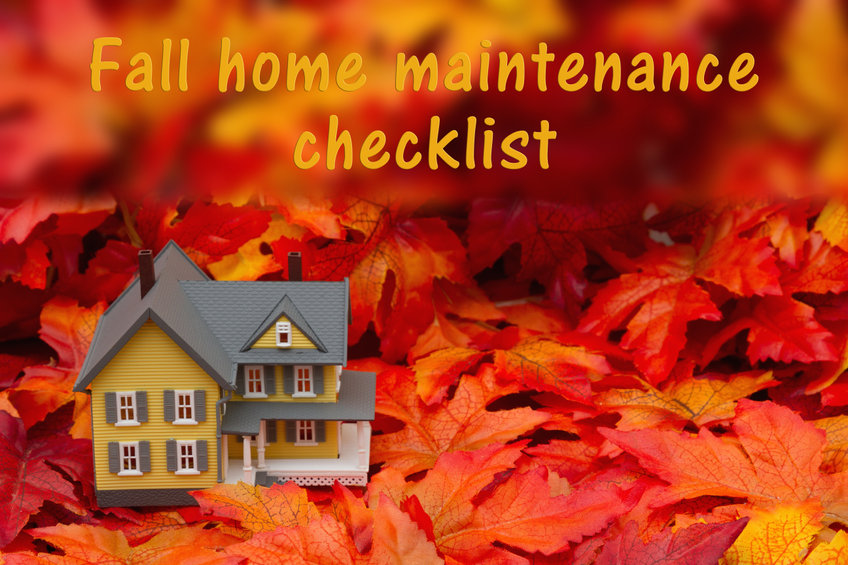 SINGLE FAMILY HOME LANDLORDS … 10 POINT CHECKLIST
Fall Maintenance "Musts" to Protect & Enhance Your Investment
OK, SFH residential rental investors! Labor Day has ushered in the unofficial start to Autumn … officially a reality later this month.
Early Autumn is the perfect time to ensure the continued (and hopefully growing) value of your investment property by attending to key preventative maintenance. Your payoff … catch minor issues before they become major repairs down the road.
So, here's an excellent 10 Point Checklist for Success to deliver guidance on what to initiate in your efforts to get ready for the upcoming changes in seasons. Of course, the list is a guide. You may choose some or all as DIY projects … or enlist the aid of a professional contractor to identify and fix problems.
Let's start at the roof and work down to where your SFH is supported at ground level.
1. Inspect Your Roof
Your roof is the first line of defense against water damage. Catch and repair defects before you end up with water damage to insulation, drywall and electrical systems … plus prevent the growth of mold. Inspect for missing and loose shingles. Be proactive and deal with repairs now rather than discover a leaky roof at the height of a winter storm.
2. Clean Gutters
Gutters protect your property by directing rainwater away from the roof and exterior walls. Clogged gutters will not deliver on that promise! Be sure all clogs are cleared as this is one of the major causes of ice dams. Replace old or damaged gutters with new ones that have built-in leaf guards.
3. Inspect Vinyl Siding
Check for cracks or damaged siding and repair or replace. Also, look for wind damage that may catch seams and corners of vinyl or aluminum siding peeling it off the exterior walls.
4. Paint as Needed
Don't wait until the paint starts to crack to repaint! There are many different types of paint for both interior and exterior applications. Talk to an expert to determine best choices for your property.
5. Check Smoke & Carbon Monoxide Detectors
This is done by pressing the test button. Be sure to change the batteries. That's cheap insurance in the event the detectors must activate in an emergency detection of danger.
Important Safety Tip:
When a connection is made between the positive and negative posts of batteries and any conductive material, electricity will flow. This is especially important to know when it comes to 9-volt batteries, the kind in smoke detectors. Reason - because the positive and negative terminals are on the same side and close together.
Recently, a homeowner sat a laundry basket next to a sack of batteries waiting to be recycled. Two of the batteries shorted against each other. Ultimately, they burst into flame causing a fire that totally destroyed the home.
Easy fix:
Put a small piece of electrical tape over the positive and negative battery posts of batteries that are in close proximity to each other. That's true for new and old batteries as the old may still have enough juice to be a problem.
6. Replace HVAC Filters
Ideally this should be done frequently. Check monthly and replace as needed. A dirty filter forces your HVAC system to work harder which results in higher winter heating expenses and hastens a major replacement cost as it shortens the life of your blower motor.
Tip:
While you are thinking "HVAC", clear vegetation, mulch and other debris from around the compressor. That will ensure good airflow - essential to efficient performance.
7. Sealing and Insulation
Experts say that proper sealing and insulation can save up to 20% on heating and cooling costs. That relates to about 10% of your annual energy bill. Check all windows and doors for gaps and seal them with a weather proof sealant (caulk) and weather stripping.
8. Fireplaces and Wood Stoves
Have the chimney cleaned by a licensed chimney sweep. That's the safest way to avoid chimney fire. Wood stoves are more and more prevalent. If one is installed in your SFH, be sure to have it inspected now before it gets constant use during the winter months.
10. Foundations and Crawl Spaces
Inspect the foundation for cracks. Caulk areas where masonry meets siding, where pipes and wires enter the house and around windows and door frames. Enter the crawl space to look at the walls and plumbing for signs of leaking.
Takeaways
The old adage holds true, "An ounce of prevention is worth a pound of cure." Fall is a perfect time to give your rental property a routine inspection and avoid expensive maintenance down the road, give your tenants a disaster-free experience and keep your investment property in tip-top shape.
You may choose to deal with the above Checklist as DIY projects. Alternatively, it may be preferable to engage the aid of a proven property manager to identify and fix problems.
Give us a call or drop an email for more info. We'll respond promptly!