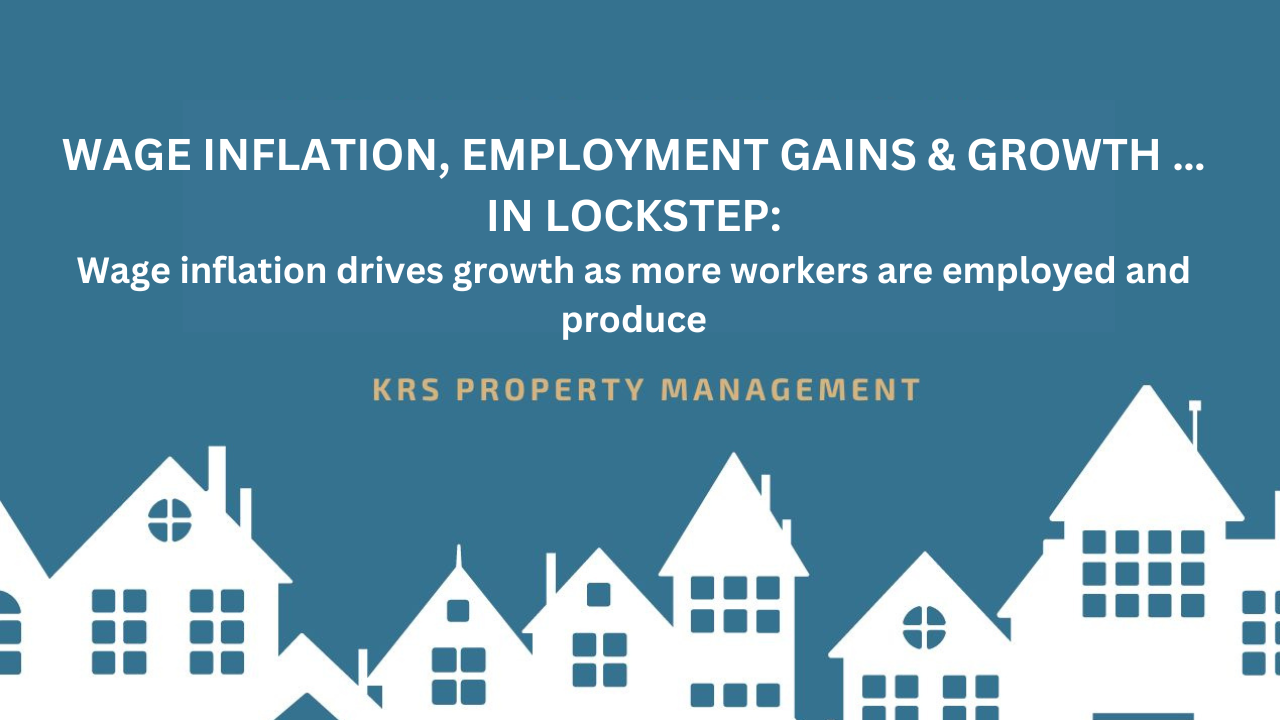 WAGE INFLATION, EMPLOYMENT GAINS & GROWTH … IN LOCKSTEP
Wage inflation drives growth as more workers are employed and produce
goods and services that generate profits in excess of employee compensation.
Question: Why else would an employer agree to increased compensation demands by workers? The workforce is a critical factor in the production of goods and services. As such, employers will not agree to pay hikes unless it promises a bump in their ROI.
As I pointed out in last month's issue, inflation drives rising pay … not the reverse. Why is this so? Inflation is currency devaluation … which means it has nothing to do with economic growth. In fact, inflation has eaten into wage gains … not the other way around. In many cases worker raises have been cut, if not wiped out altogether, by price increases. Result … employers compete to attract and retain quality workers and agree to boost compensation as part of the equation to boost profitability.
Good economic times occur in concert with greater earnings.
History shows the relationship between inflation and unemployment is not absolute. That is contrary to "conventional wisdom" apparently embraced by Fed economists and their independent advisors, i.e., that with economic growth comes inflation which drives lower unemployment and vice versa. This orientation is the questionable basis for Fed decision-making.
In this piece, I contend the connection between wage inflation and employment gains are complementary, not incompatible. The source for the following analysis is the U.S. Bureau of Labor Statistics (BLS). Want to cut to the chase … summary follows the detailed research below.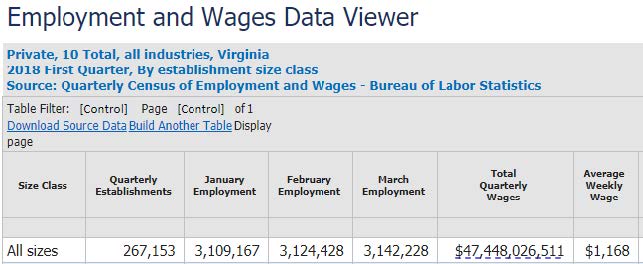 Here's a 5-year summary of the above data … 2018 to 2022.
The number of non-government employers increased from 267,153 to 305,484 … a bump of 38,331, or 14.3%.

Other than a predictable slight dip at the height of the pandemic in 2020 & 2021, employment increased each month.

The average weekly wage rose from $1,168 to $1,390 … an increase of $222, or 19%.
Clearly, the facts do not support the theory that an important way to fight inflation is to weaken the labor market. Inflation during these periods was sustained with the only intervention being Fed interest rate increases.
Note: If you want to further "slice and dice" the data click on this link.
Takeaways for Virginia Landlords
There's considerable upside potential for job growth as the Virginia Worker Shortage Index gap shrinks. Refreshingly, the U.S. Chamber of Commerce reports this month there are 54 available workers for every 100 job openings … a 15% increase from 47 workers in January of this year.
So, Virginia employers and jobseekers are increasingly satisfying their mutual employment objectives. I believe that the trend in higher employment and increased wages will continue at least through 2023. Additionally, wage inflation is in lockstep with higher employment as employers continue to bid for quality workers.
According to the Harvard Business Review, the sources of strength in the U.S. economy is, "The booming labor market translates into wages and spending, which is a good place to start gauging the strength of the real economy".
Consider this. The BLS reports the end-of-year 2022 increase in weekly wages at 8.9%. If wage inflation and employment growth continue, even at conservative annual growth rates, weekly paychecks and employment statistics may look like the following over the next 5 years.

Admittedly, there are "wild card" factors that may affect the economy in upcoming months … the 2024 elections; Fed moves; geopolitical developments, etc. That said, I'm of the opinion that wage inflation and job growth will continue this year and into the next.
So, how is wage inflation and rising employment likely to affect residential landlords like you and me? I'm convinced there will be robust gains in employment, wages and spending power in 2023. The net effect for residential rental investors will be an expanded tenant pool of workers enjoying sizable bumps in income. In turn we will enjoy enhancements in rental income, tenant quality and appreciation in asset values.