SFH LANDLORDS!
2 Profit Thieves Are a Threat … Vacancy & Turnover
Steps to Prevent Becoming a Victim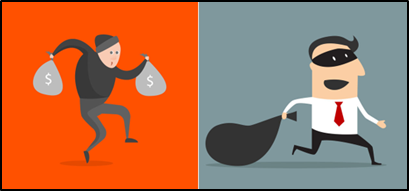 Profit Thieves … Vacancy & Turnover
Important: The two major thieves of rental property profits are vacancy and turnover. Vacancy steals by depriving you of rent payments. Turnover rip-offs include higher costs in readying the property to be rented again and again.
Vacancy can be your single biggest expense … costlier than repairs, maintenance, and upgrades combined. So, minimizing that exposure is essential. Maintaining occupancy rates at a high level protects your investment, cash-flow and profit margin.
Vacancy can occur when you first purchase your SFH property, when a tenant's lease expires, when a tenant breaks the lease or when you file to evict a tenant. Any of these events will result in a loss of income until the rental unit is once again rented. In the interim, four additional expenses will continue to come due:
Mortgage payments, if you don't own the property outright.
Property taxes.
Utilities.
Insurance
Next to the financial scourge of vacancies, the cost of tenant turnovers runs a close second. Here is a sampling of costs landlords incur to prepare a rental unit to be in shape for a new tenant.
Cleaning
Painting
New carpets
Repairs
Promotion to attract new renters
Conducting background checks and checking rental history of prior landlords
Admittedly, some vacancies and turnover periods are unavoidable, e.g. a tenant accepts a job in another area or changes in family status. That said, recognize that these two causes of cash-flow hemorrhaging are typically triggered by one or both of the following issues … over which you have control.
Your rent is too high, and/or
Something is wrong that needs fixing
Your rent is too high: If you overprice your property, it won't matter what kind of amenities you offer or renovations you've made. Tenants will check to make sure your rental rate is in-line with similar properties in the neighborhood. If not, your current tenants will "vote with their feet" and your unit sits empty.
Do Your Homework: Evaluate the current rental market in your area. You can research rental comps and trends through a variety of resources. Here are three to get started. You'll discover others.
Your job is to be brutally frank as to how much you can charge to realistically be successful in retaining a quality tenant … or in the event of turnover … attracting a quality tenant in the next 30 days. Your assessment may conclude that you drop the rent a bit to get cash flow rolling in. Do the math. Contrast suffering from months of no rent with reducing your asking price by $50 or $100. Remember … your rental property is a business!
Something is wrong that needs fixing: Here's an issue that can be resolved for a lot less money than the lost rent when a tenant decides to move. Likewise, that same deficiency will impact your ability to attract a replacement.
This comes under the adage, "You never get a second chance at a first impression". When combined with the issue of rent being too high, well over two-thirds of prospective tenants are turned-off instantly upon visiting the rental. The visual culprit may be as seemingly benign as the color of wall paint to more serious issues such as faulty electrical outlets or leaks.
Your guiding principle, if your mom wouldn't move in … you have work to do.
Up-Front Prevention of Vacancies & Turnover
Guiding Principle: No Tenant is Better Than a Bad Tenant. While vacancies and turnover are not predictable, there are steps to take that will minimize the potential of renting to a less than quality tenant. Good tenants have a history of good character. By all means, conduct background checks on applicants.
There is a direct bottom-line benefit in conducting background checks. Landlords will enjoy decreased costs, reduced losses plus peace of mind. That's another way to say, prevent becoming a victim of avoidable vacancy and turnover costs.
A thorough background check will include:
Criminal History
Credit Checks
Previous Landlord Experience
Employment Validation
Takeaways
You may choose a DIY path to attract and retain quality tenants. Alternatively, we invite you to consider the savings in time, money plus the peace of mind that you will enjoy when you engage professional property management expertise.
Defeating the vacancy and turnover thieves delivers savings that
more than justifies the fees for professional property management.
Give us a call or drop an email. We'll respond promptly to relieve
your stress, help you evaluate your property management options
plus maximize your rental property return on investment.