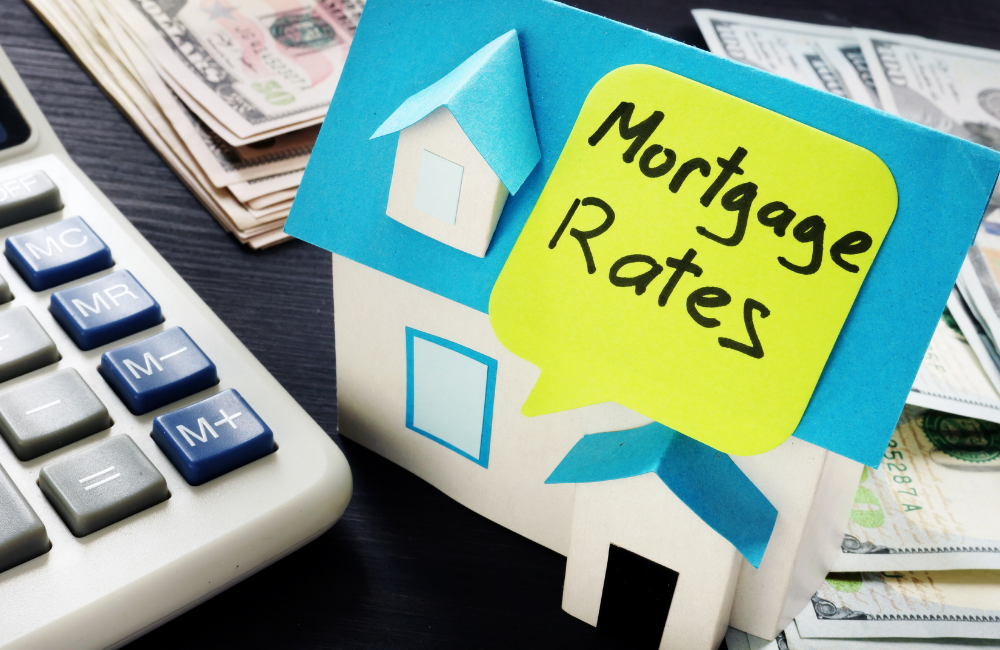 INFLATION DRIVES MORTGAGE INTEREST RATES
What should residential landlords expect for 2022
(First in a Series of 2 Articles)
As we close out 2021, in this issue and the next I'll share my vision, anticipation and recommendations for residential real estate investors in the upcoming New Year. The major driver of the conclusions offered in this article is INFLATION!
Regular readers of this newsletter will recall a two-part series that dealt with 7 inflationary dynamics. My belief is any one, or a combination of more than one, will significantly impact your and my success in making decisions during 2022. For a first time read or refresher, please Click Here for Part 1 and Click Here for Part 2.
So, let's start with what seems to be an accelerating view that inflation is here now and may not be "transitory" as presented by governmental authorities and headlined in the press. As a starting point, we'll accept the Oxford Dictionary definition, "a general increase in prices and fall in the purchasing value of money".
Inflation & Mortgage Interest … Joined at the Hip
How does inflation affect mortgage interest rates? Ultimately, investors that provide the funding for mortgage lending are interested in their return on investment. When inflation rises and purchasing power falls, interest rates must also rise to maintain and attract investor participation.
Mortgage rates are determined by the bond market. Investors purchase packages of mortgages seeking profit from the interest paid on the underlying assets …effectively "bonds" called mortgage backed securities. To prevent reluctance on the part of investors, returns must compensate for inflationary risks. That said, it's instructive to take a look at the historical relationship of inflation rates and mortgage interest.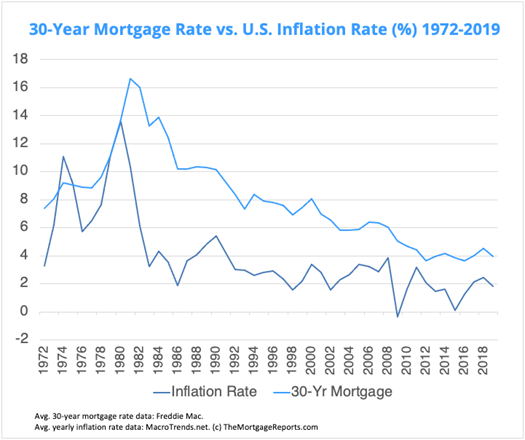 Clearly, mortgage rates track with inflation … all in keeping with the profit-seeking discussed above. For residential real estate landlords that means the decision to borrow for the purchase or refinance of a rental property is likely to entail a more robust interest rate price-tag as inflation persists.
Making the Case for Inflation
At their meeting in early November, Federal Reserve officials expressed increased worries about a surge in U.S. inflation. They also acknowledged "inflation pressures could take longer to subside" than they previously believed due to ongoing labor and supply shortages. Based on the consumer price index, these shortages have pushed the yearly rate of inflation to a 31-year high of 6.2% … from almost zero just a little over a year ago.
In response to these inflationary indicators, Fed officials approved a plan to gradually shrink its asset purchases of $120 billion a month plus wind down its bond-buying program by next June. It's reported that some Fed members have suggested the bank should be prepared to accelerate its rate of reduced purchases
if inflation doesn't begin to weaken soon. If that proves to be the case, the Fed would be positioned to raise a short-term interest rate maintained near zero since early in the pandemic.
As stated in the minutes of the meeting, "[T]he committee would not hesitate to take appropriate actions to address inflation pressures that posed risks to its longer-run price stability and employment objectives". Indications from Fed officials that there may be a faster pace of tightening their inflationary control "reins" has resulted in the yield on the 10-year Treasury note to rise above 1.65% … an uptick from its previous recent high of 1.531%.
Be sure to keep a lookout for our next issue for a discussion of:
Wage inflation
Residential Real Estate Prices Forecasts - 2022
Mortgage Interest Forecasts – 2022
Of course, please let me hear from you to share thoughts and insight.
As the leading property management company in the area, KRS Holdings stand by our core principles:
Successful property management is based on simple math. Add value to your assets, subtract unnecessary expenses.
Give us a call or drop an email. We are here to be your resource for professional property management!