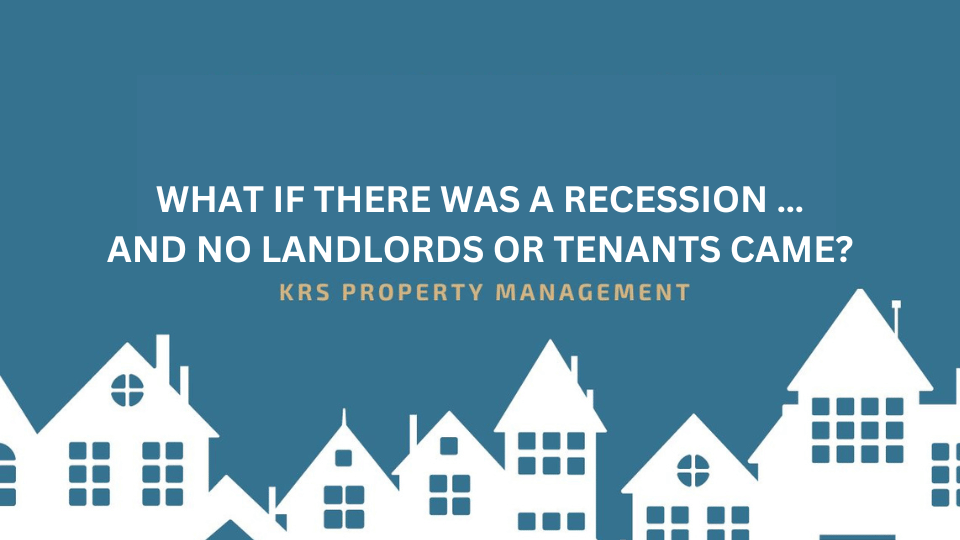 The pundit economists, through professional perception or projection, have heralded the imminent recession…or suggests that we're in the middle of one right now. I'm not an economist so will not try to defend or deny any of these opinions. What I will do in this piece is offer real-life perspective based on my experiences as a successful residential real estate investor and property manager … and the reported observations of my many customers and investors.
Bottom Line: The Sky is Not Falling … 6 Tangible Proofs!
People are paying their bills … including tenants
Unemployment at or near historical lows
The Phillips Curve – Foundation for Fed's Faulty Figurin'
Wage Inflation to Continue
Inflation Rate Significantly Down
Rents On the Upswing
We'll start with the first three in this issue. Check out our September issue for the final three.
People Are Paying Their Bills … Including Tenants
Auto loans, credit cards and residential rents … delinquency rates are low.
Auto Loans 90 or more days delinquent
3.82% in June of this year,
Down 24% from a June 2020 high of 5.03%
Credit Card Charge-Offs (in Billions)
According to the Federal Reserve 2023, Fitch Ratings, credit card charge-offs have shrunk 32% from:
a 2020 high of $32.98B to,
a 2022 low of $22.34B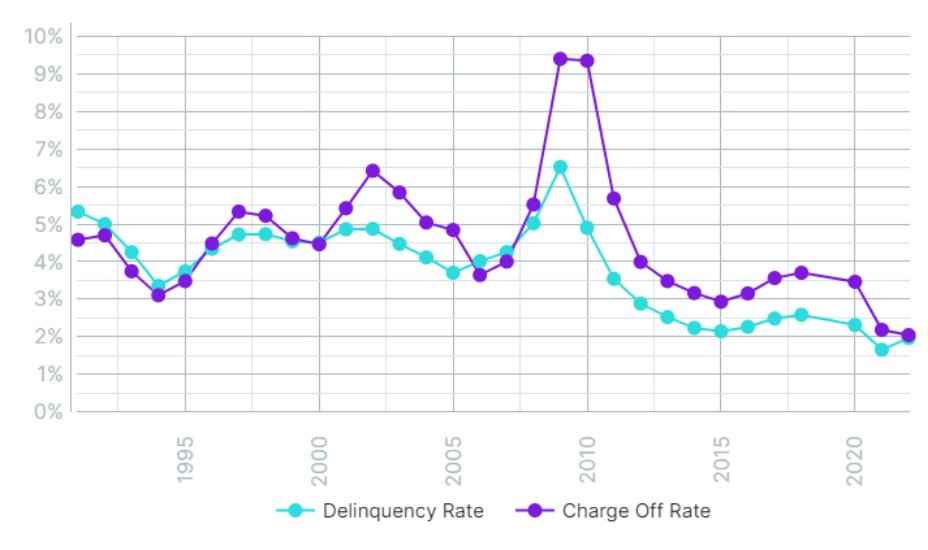 Tenants Are Paying Their Rent
RealPage reports that market-rate rent collections climbed to a 3-year high of 96.03%…highest since March 2020…further evidence that renters are generally in stronger financial shape than often reported by pundits. The vast majority of renters continued to pay rent through COVID and the inflationary period that followed. That finding is consistent with a Bank of America report that consumers were in solid financial shape due to wage gains and to stimulus spending despite inflation at 40-year highs.
This is of particular importance as COVID-19 government subsidies are now a thing of the past yet rent collection stability remains robust.
Unemployment at or Near Historical Lows
Virginia ranks an admirable number 15 of the 50 states in registering the lowest unemployment rates at 2.5% in July 2023 vs. U.S. unemployment at 3.5%

Additionally, people are staying on unemployment for shorter times. That, coupled with a Virginia labor force participation rate of 66.7%, means jobs are available for all who choose to work.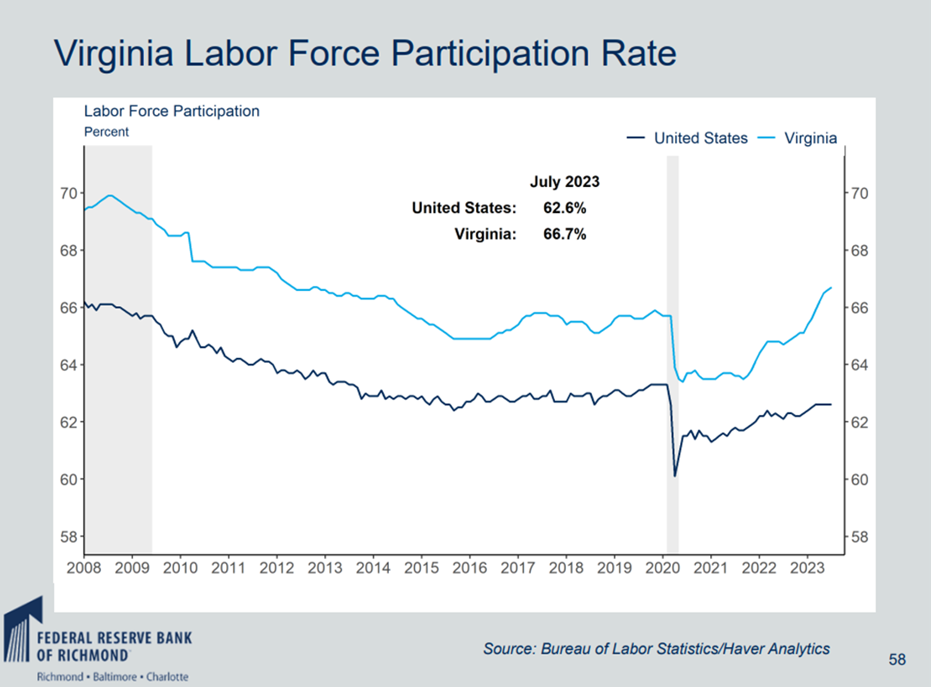 As further proof, the U.S. Chamber of Commerce reports the Virginia Worker Shortage Index shows 51 available workers for every 100 open jobs! Employers will compete to close that gap…further slashing unemployment.
Employment means financial ability to support family budgets, including rent.
The Phillips Curve – Foundation for Fed's Faulty Figurin'
Economists at the Fed and their independent advisors base decisions on a 65-year-old theory called the Phillips curve. The theory claims that higher inflation is associated with lower unemployment and vice versa. Conclusion: An important way to fight inflation is to weaken the labor market.
A theory should never become the decision-making premise until proven in practice.
An economic model is ultimately good only if you realize reliable explanations and forecasts over time. History negates the Fed's position on the relationship between inflation and unemployment.
In a recent Washington Examiner article, my conviction regarding the Phillips curve is echoed, "The Phillips curve positing a trade-off between unemployment and inflation is a false dichotomy…"
Increased wages and employment gains are not drivers of inflation.
Inflation drives rising pay … not the reverse.
Check out our September issue for the final 3 of 6 tangible proofs that
The Sky is Not Falling!
Takeaways
Now in our post-pandemic economy…even in the face of real or imagined recession pressures...there will be robust gains in employment, wages and spending power. The net effect for residential rental investors will be an expanded tenant pool of workers enjoying sizable bumps in income.
Residential landlords take note…we have a near-term opportunity to:
increase rents
make needed property improvements, and
appeal to tenants who can afford to upgrade their housing
Whether you are a DIY landlord or someone that needs property management services…or a combo of the two, KRS Holdings is here to help!
Give us a call or drop an email. We'll respond promptly and
relieve your stress by evaluating your property management options.