SINGLE-FAMILY HOME LANDLORDS & INVESTORS
Be Thankful for Virginia Rent & Mortgage Relief Program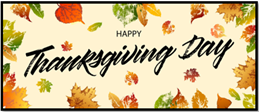 In the spirit of the Thanksgiving holiday, there is still time for SFH rental investors to look to relief from pandemic-triggered rent delinquencies. The answer is the Virginia Rent & Mortgage Relief Program (RMRP) … and unless you've already done so, it requires immediate action on your part. The state agency administering the program - Virginia Housing – makes it abundantly clear that:
Applications must be received by 11:59 p.m. on Nov. 30, 2020.
Thankfully, there is still time for SFH landlords to move forward quickly and take proactive steps to preserve our investments, maintain positive cash flow and help our renters get through these next few months. Qualifying for the RMRP will help avoid foreclosure by infusing much-needed rental revenue.
Be sure to see our October Newsletter for all the details. In this issue, we want to reinforce a sense of urgency to take advantage of the RMRP and help your tenants to navigate the bureaucratic shoals of applying for help.
The application for relief is … unsurprisingly, given government propensity for forms and detail … a six-page document requesting proof of income and other evidence of the landlord-tenant relationship. Predictably, tenants were, and many remain, intimidated by the documentation and process needed to qualify for help. The result … a dismal response by renters.
You can take a leadership role! Now, Virginia landlords can apply for assistance on behalf of tenants who owe back rent. That means significant streamlining for landlords seeking rent and mortgage relief through the revised state program. Meet the qualifications and be rewarded with payments retroactive to April 1 of this year.
RMRP Today
Given the authorization for landlords to assist tenants to seek financial relief, your and my expectation would likely be a major upswing in applications for RMRP benefits. While there has been some, it has not been a landslide event. Why? Perhaps there are two explanations. First, many – maybe most – landlords are unaware of this revised provision. Second, many of those "in-the-know" are taking a finger-pointing position that it's the tenants' responsibility, not theirs. In short, a demonstrated unwillingness to be proactive and address the problem.
An example of landlord finger-pointing: The following presents the essential facts of a real-life landlord/tenant encounter.
The tenants have occupied a single-family rental property for nearly 4 years. Rent has been scrupulously paid on time and the property has been well-cared-for inside and out. Then COVID-19 arrived on the scene in Virginia.
The renters' livelihood is dependent on the success of a family-owned business. Regrettably, their business is highly dependent on clientele who are now severely restricted to patronize their services. Result: Virtually no current income.
Additionally, this is an immigrant family with an admirable work-ethic. However, they are hampered by limited English language skills and knowledge of available sources of assistance - read RMRP.
That said, the family has been diligent in creating a rainy-day fund to meet unforeseen financial tragedies. So, they contacted their landlord volunteering they would make the next two months' rent payments … but sought to work out longer term arrangements to avoid having to vacate the home and move in with relatives.
The landlord's response … "That's your problem, not mine. Pay your rent on time or be prepared to move."
Clearly, this attitude demonstrates a total lack of acknowledgement
that both the landlord and the tenant have a stake in qualifying for relief!
KRS Holdings Approach to The Problem
Focusing on the "win" delivers half-million to a million dollars cash rewards.
KRS Holdings is both a professional property management firm, as well as a fellow residential rental investor. That means we face the same challenges in dealing with the ravages of the pandemic for our clients as well as our investment portfolio.
Our answer to the question, "Whose job is it?" is … who cares who does the work, if everybody wins! If nobody does the work, everybody loses!
So, to retain quality renters in these days of rent-paying difficulties … be proactive and help! Without a doubt, this is a time for mutually supportive efforts until the return to tenant/landlord normalcy. So far, we have completed or have in process about 200 tenant applications. Approvals are being granted with rent relief as the prize. Lesson: Solve the problem and the people win … tenants and landlords!
KRS HOLDINGS RENTAL CUSTOMERS … FREE SUPPORT …
As we take this cumbersome process off your hands.
All our eligible customers enjoy KRS Holdings completing and submitting the RMRP applications at no charge. The application process is somewhat daunting, so please be patient and remain confident that we are moving your relief request forward as rapidly as possible. Thanks for your understanding and the opportunity to be of service!
Takeaways
There's no payoff in finger-pointing and playing the blame-game as to who is responsible to seek assistance during this perilous health and economic crisis. Joining together, landlords can exercise leadership in helping tenants master the bureaucratic maze to weather the next few months … at which time we hope for a return to normalcy in tenant/landlord relations.
KRS Holdings efforts will result in capturing $500,000 to $1,000,000 in RMRP relief funds by year end. The beneficiaries … our clients and their tenants along with our tenants and KRS Holdings. Not a bad payoff, both financially and emotionally for all of us.
SFH Landlords … time is of the essence!
Applications must be received by 11:59 p.m. on Nov. 30, 2020.
KRS Holdings stands ready to help as this qualifying 11th hour approaches.
A phone call or email is all it takes. We'll respond promptly!