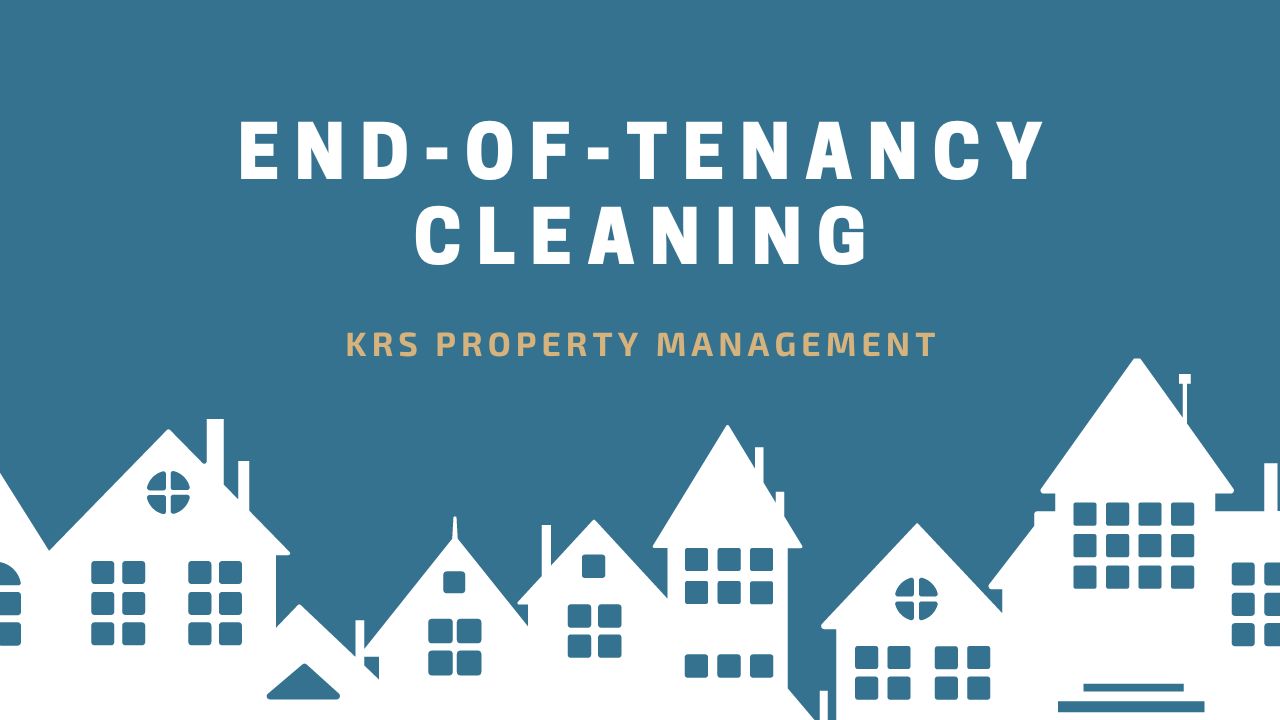 Part of your after-tenancy duty is ensuring that the security deposit of a renter is returned when the lease ends. This is where a lot of conflicts could occur since a landlord and a tenant can have different expectations and can argue over the rental unit's level of cleanliness and repair.
The landlord can end up collecting cleaning fees from a renter when they're not satisfied with the state of the rental property turned over to them. This type of disagreement can be reduced by asking a resident to perform an end-of-tenancy cleaning before moving out.
What Is End of Tenancy Cleaning?
Before a resident moves out of the rental space, they're requested to perform an end-of-tenancy cleaning. It refers to keeping the property's rooms, furnishings, and floors tidy. You can inform tenants of these responsibilities when sending the move-out letter.
When a tenant has done a superb job of cleaning the unit then the landlord can easily accept requests for property tours from new potential renters. This limits rental property vacancies and ensures that the landlord has a consistent income.
What's the Purpose of Conducting an End-of-Tenancy Cleaning?
One of the main objectives behind carrying out an end-of-tenancy cleaning is to make sure the rental unit matches its original state. For instance, if you have an agreement with the renters where they're allowed to change the paint colors of the interiors, but must repaint them in the original shade when they leave, then the residents must honor this condition.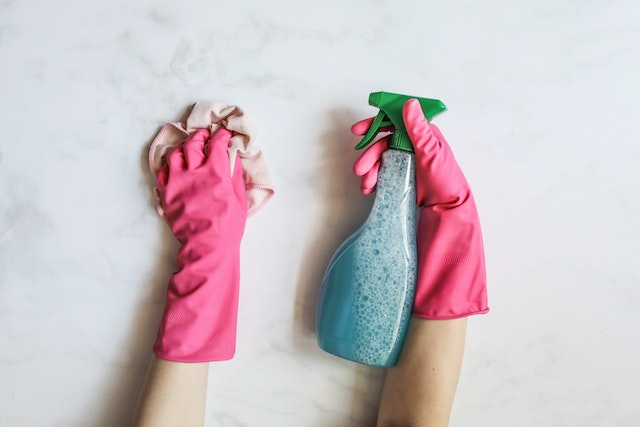 If are there damaged appliances that weren't caused by wear and tear, then the renter has to get them fixed before they move out. Your rental unit must also appear clean, similar to the way it looked before the renter moved in.
If the resident failed to meet the cleaning standards then there may be deductions on the security deposit. If property damages aren't repaired then it's also possible for the deposit to not be refunded in full. Since conflicts can arise at this point, it's recommended to do an end-of-tenancy cleaning and provide a checklist for tenants.
What's the Right Level of Cleanliness?
The desired cleanliness of a space can be subjective. That's why, there can often be disagreements surrounding the issue. To avoid this, you can create a point of reference for tenants.
Landlords can start collecting documentation of the unit and doing walkthrough inspections so they can present renters with references of how to clean a rental should look when they return it to the owner. They can take pictures, and videos, and make notes before the rental property is occupied.
If there are any new issues appearing, they can inform the tenant to get it fixed since they can show evidence of how the rental unit looked previously. If the damage is caused by normal wear and tear then it's the landlord's duty to get it fixed or replaced. Once renters can present a clean and damage-free rental space then they can gain back their security deposit in full, as long as they paid their rental dues.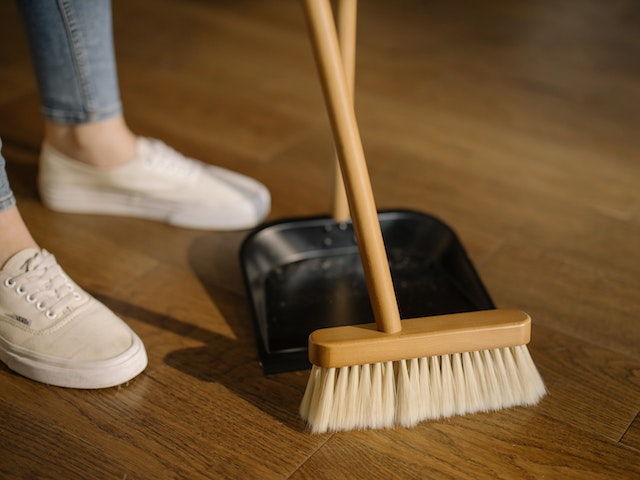 How to Handle Normal Wear and Tear?
It's easy to notice wear and tear, especially in older rental homes. The more renters stayed in your property then the more damage will occur. You can find marks, scratches, dents, and stains all over the rental.
You can also expect a lot of things to grow dull over a period of time. The curtains, wallpapers, and wall paint may eventually fade. A landlord shouldn't expect tenants to pay for this kind of damage. Only repair fees for damages beyond wear and tear can be taken out of the security deposit.
What's an End of Tenancy Cleaning Checklist?
When the tenancy ends, renters must turn over a clean rental unit that matches its original state. They may hire professional cleaners to perform the cleaning if they wish. Whichever option they choose, to ensure all areas are covered, they can ask the landlord to provide an end-of-tenancy cleaning checklist.
Prior to conducting an end-of-tenancy cleaning, obtain the right equipment and tools, such as:
Microfiber cloths
Mops
Cleaning products
Vacuum cleaner
Once the right tools have been secured, it's time to begin the cleaning process. Here are the areas to include in the cleaning checklist:
Walls, Doors, and Ceilings
Remove marks on the walls
Wipe light switches and socket areas with a clean rag
Get rid of dust from the surfaces
Dust the window frames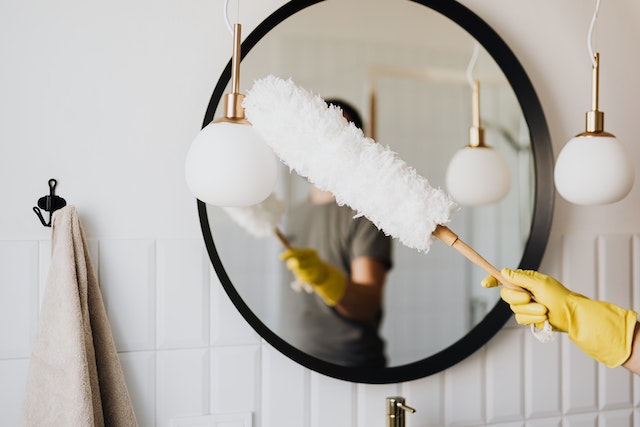 Fixtures and Furnishings
Clean the curtain rods and picture frames
Wipe dust off the lampshades and light bulbs
Vacuum the sofa and underneath it
Organize the inside drawers and cupboards
Bathrooms
Remove buildup in bathtubs by cleaning the water stains
Use a disinfectant for the toilet
Get rid of mold stuck between tile grouts
Wiping the sink and taps using vinegar or lemon juice
Kitchens
Wipe the kitchen countertops
Degrease the oven
Get rid of limescale from the kitchen sink
Mop the kitchen floors
Clean small appliances, such as blenders, toasters, and descale kettles
Carpets
Carpets can absorb bad smells and dust quickly, as a result, it can make a space look messy. A good solution is to use a steam cleaning machine. You can borrow one for a DIY cleaning approach or engage the services of an expert to do it on your behalf.
Outside areas
You can also perform an end-of-tenancy cleaning outdoors by mowing the lawn, planting new grass, and pulling up the weeds. Your rental must be clean and attractive inside as well as outside to capture plenty of prospective renters.
Bottom Line
The end-of-tenancy cleaning process is a vital step that helps protect your investment and prepare the property for the next tenant.
If you need a trusted partner to perform property walkthrough inspections for you, you can also hire a property management company like KRS Holdings. We can help market your rental property, screen tenants, collect the rent, maintain your investment and so much more. Contact us today to learn more!